LED Epoxy Letters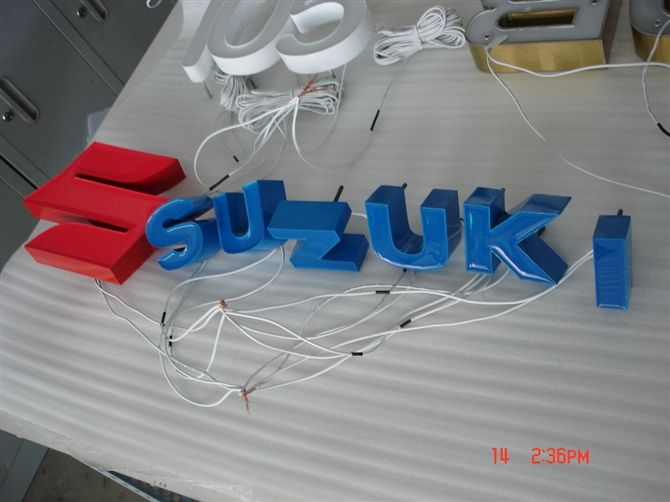 The LED Epoxy Letters are consisted of Epoxy Resin and LED light source. The letter case is made of   Stainless Steel or Galvanized Sheet etc, a special kind of Epoxy Resin will be filled in the letter case. The light transparency is even and comfortable with a high amount of brightness. We achieved the maximum evenness of the lightening due to the fact that we use the principle of LED upside-down lightening refraction which is a big difference compared to the other lightening refraction principle. As the main material is improved macromolecule liquid resin, we could make it very colorful.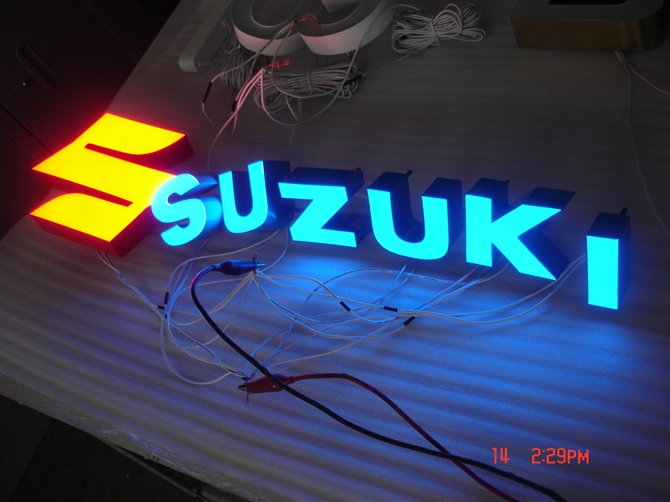 The main procedures to produce the LED Epoxy Letters are: first the letter cases are made by cutting Galvanized Sheet or Stainless Steel sheet, welding and polishing etc. technical processes, then install LED light in the letter case and the final fill with Epoxy Resin in the case. To suit different needs, the letter case may stay or be removed once the product is finished. You may also choose the LED's type and color to meet your needs.
We use the hollowing technique to reduce the weight of larger LED Epoxy Letters which makes it more convenient for installation. TheLED Epoxy Letters has even light transparency without facular as the Epoxy Resin has more softening optics characters than Acrylic panels. As the high end channel letters, LED Epoxy Letters are widely used in high class buildings such as office buildings, shopping malls, hotels and schools.
The main advantages of LED Epoxy Letters:
High efficiency: maximum usage of the lightening via suitable arrangement for lighting and effectiveness of the light reflects in the letter case.
Energy saving: good quality LED source, 0.1 w per LED point.
Safe: Low voltage, DC12V
Long lifetime: LED life time up to 80,000 hours, water-resistant: IP168, ultraviolet-resistant: 7-8, strong resistance to acids and corrosion, better resistance of aging and fade than acrylic's
Environment friendly:  all material corrosion free, no harmful gases
Unification: using mould for lot production to ensure each LED Epoxy Letter same.
Detail information of LED Epoxy Letters:
Description:LED Epoxy Letters
Main body material: Epoxy Resin
Border material: Stainless Steel, Galvanized Sheet etc
Process technique for the border: paited, Brushe, Mirror Polished
Light source: LED
Illuminate: front lit/back lit/both side lit/whole body lit
Power source: AC110V, AC220V
Operating power: DC12V
Consume: vary depending on the type of LED and size of the letters.
LED lifetime: >50,000 Hrs
Working temperature: -40℃~80℃
Average lifetime without any errors: >5,000 Hrs
Suited for: Outdoor or Indoor, waterproof, windproof
Supplied with: Voltage converter, installation instruction
Package: single letter covered with bubble wrap, wooden case with Styrofoam. Also may be packed per the customer requirements.
Pay method: Paypal or Bank transfer (if you choose to pay by Paypal, you will pay extra service charge by Paypal: 3.9% plus $0.30 USD)
Lead time: production will be arranged with in 24 hours after down payment received. The deliver date will be decided based on the size, complicatedness and number of letters.
Order method: 50% down payment, we will send you multi-view pictures of the product after completion of the manufacturing for your confirmation. Once we have received the payment of the balance we will deliver the products to you. (you need to show the Bank remit note if paid by Bank remittance)
Delivery: EMS, DHL and UPS etc.
Warrantee: One year
Category
Translator
Popular Tags
Share and Enjoy
Hot Products